Phonak
Phonak is one of the world's premier manufacturers of hearing aids. Over its 70 years, Phonak has been pursuing state-of-the-art hearing solutions for hearing loss sufferers. Phonak products are intended to significantly improve the quality of life and reduce the barriers that hold back hearing loss sufferers.
Phonak has a range of hearing aids that suit all requirements and types for hearing loss. With several new models tailored to your needs and tastes, Phonak's products are designed to provide maximum comfort and a clean, high-quality sound. The latest models include the Paradise, an advanced hearing aid that can attach to any smartphone through Bluetooth.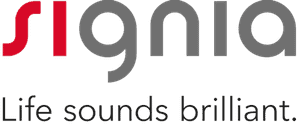 Signia
Many people remember Siemens for their consumer electronic products, but it also had one of the world's largest hearing aid divisions in its heyday. Recently, the umbrella group Sivantos acquired the company. Sivantos then rebranded the name of Siemens hearing aids to Signia. 
Signia started to introduce the Binax and Primax range of hearing aids to critical and commercial success. 
The company has just introduced a new device called the Xperience. It is able to connect via Bluetooth to any phone and is equipped with a rechargeable battery. It also boasts Signia's famous 'Own Voice Processing' for a much more realistic speech experience.

ReSound
Established in 1943, ReSound is a global company with products in more than 80 countries worldwide and is currently based in Denmark, Europe. It is recognized as one of the largest hearing aid manufacturers in the world.
With more than 147 years of audiology and audio experience, ReSound has blazed a trail in the audiology field. Equipped with this expertise and skill, ReSound has grown into a pioneer in hearing aid engineering worldwide. The company leverages the tradition in its cutting-edge listening products.
The business has a pedigree of groundbreaking new technology, including the first-ever hearing aid Made for Apple hearing aid that could accommodate stereo audio streaming. Their latest edition, the ReSound ONE, is their most natural sounding hearing aid, using each ear's unique structure to pick up sounds naturally.

Oticon
Oticon was founded in 1904 and is considered one of the most successful firms in the industry. Located outside Copenhagen in Denmark, they are the world's second-largest manufacturer of hearing aids.
In 1904, Oticon was founded by Hans Dement, whose wife suffered hearing loss. Oticon's slogan, 'People First' continues to drive innovation at the company. It takes that philosophy into every research piece, every hearing aid model, and every feature it creates.
As can be seen with BrainHearing technology from the company, Oticon continues to innovate. By raising the signal-to-noise ratio, BrainHearing attempts to address the issue of listening in noise. The Opn S is the flagship model by Oticon, which was developed to offer a more personalized listening experience to people with hearing loss.

Unitron
Unitron is a multinational company working closely with health professionals and experts to create the best hearing experience for its customers. In operation since 1964, it has recently become one of several manufacturers of hearing aids under the Sonova Group umbrella organization.
The company, located in Canada's 'Silicon Valley' in the Kitchener-Waterloo area of Ontario, Canada, is rightly proud of its products, combining a natural sound experience with excellent performance in noisy conditions. 
For its efforts, the firm has received several product design awards, including a Red Dot award for the Moxi Now, the smallest RIC hearing aid ever. 
To enhance customer loyalty with hearing aids, Unitron develops its technology with a renewed emphasis on proper functionality and patient experience.